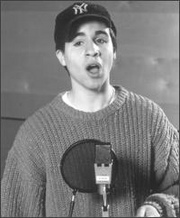 Brad Kane does Aladdin's singing voice in all 3 films.Brad Kane doesn't return to do Aladdin's singing voice in disney's christmas snowed at the house of mouse.
Aladdin
Brad kane was consider the speaking role of Aladdin as well. But the animators gave the speaking role of Aladdin to Scott Weinger instead.Brad showed his singing talent for the character Aladdin The animators loved his singing voice a lot.
After the success of Aladdin
Brad Kane returned for the two final sequels for his last singing performance as Aladdin.It's really unknown what he is doing now after the final films were made.
Ad blocker interference detected!
Wikia is a free-to-use site that makes money from advertising. We have a modified experience for viewers using ad blockers

Wikia is not accessible if you've made further modifications. Remove the custom ad blocker rule(s) and the page will load as expected.