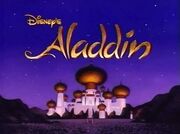 Aladdin
is a television series that aired from 1994 to 1995, and picked up the
Aladdin
storyline between the movies,
The Return of Jafar
, and
Aladdin and the King of Thieves
. It had 86 episodes, for a total of 3 seasons, and the voices for the main characters were provided by all the original characters except
Genie
.
Jafar
appears once in a crossover episode with
Hercules: The Animated Series
.
Aladdin is an animated television series made by Walt Disney Television which aired from 1994 to 1995, based on the original 1992 feature.
Debuting simultaneously on Saturday morning and as part of the syndicated weekday Disney Afternoon, the show set a pattern for several future Disney series. Many of the films' stars provided the voices of their TV counterparts with Dan Castellaneta filling in for the late Robin Williams in the Genie role, as he did for The Return of Jafar.
The Disney Channel reran the series in the late-1990s until it was replaced by their pre-teen lineup. Toon Disney aired the reruns from 1998 until it was replaced by Jetix programming in 2004.
The show became popular with Arabic speaking viewers when it aired on Disney Channel in 1997 dubbed in Arabic and then reruns were shown on MBC 3 to give the show more popularity. All the characters were voiced by Egyptian actors, and as a result, Egyptian Arabic was used.
The series finale is followed by the third and final movie, Aladdin and the King of Thieves.
There are currently no plans to release the Aladdin TV series on DVD from Walt Disney Home Entertainment. To date, only a few episodes are available on the Disney Princess DVDs.
This show currently airs on:
Plot
Coming on the heels of the direct-to-video sequel The Return of Jafar, the series picked up where that installment left off, with Aladdin still living on the streets of Agrabah, still engaged to the beautiful and spunky Princess Jasmine. "Al" and Jasmine go through many adventures together into peril among sorcerers, monsters, thieves, and more. Monkey sidekick Abu and the fast-talking, shape-shifting Genie comes along to help, as does sassy, temperamental and complaining parrot Iago, formerly Jafar's pet but now a grudgingly good and neutral guy.
Main Characters
Villains and Enemies
Supporting Characters
Episode list
Main article: Aladdin episode list
After this series ended, another direct- to-video/DVD movie Aladdin and the King of Thieves, was released to officially end the Aladdin franchise of films and TV series.
See also
Reception
External links